Portable, Heavy Duty

OPACITY SMOKE METERS  

Unbeatable Sale Prices & Support!

We Sell to the Public, Municipalities, Schools & the Military

WE KNOW the METER and Provide Support AFTER the Sale!

- Former State Certified Smoke Tester & Authorized WAGER Distributor -

ASK US WHY WAGER is the BEST CHOICE Over All Others!

     We Know ALL Meter Brands & Can Help You Compare

Snap Acceleration Testing Monitors Exhaust Emissions' Opacity Density on All Diesel Engines including Trucks, Locomotives, Generators

& More!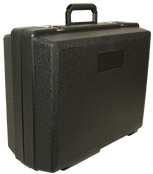 Model 6500 Smoke Meter Complete

(Part No. 194-6500C)

•  Control Unit with recorder jack,              printer interface, instruction manual

•  AC Adapters/Chargers

•  Connecting Cable (25')

•  CPU Interface (software included)

•  Neutral Density Filter 

•  Portable Impact Printer

•  Extension Pole

•  Genuine Pelican Carrying Case

• Full or Partial Flow Head, or Both! 

• Calibrate it Yourself!

• Portable & Rugged

• Fast, Reliable & Accurate

• Software Included

• Stores up to 100 Tests

• Interface to CPU

• Charger Available in 220V

• Low Maintenance

• SAE J1667 Compliant


The WAGER 6500 is used around the world by Private and Municipal Fleets, plus Regulatory Agencies. The Model 6500 Smoke (Opacity) Meter accurately detects, measures, and provides a visual read-out of the opacity of smoke emitted by diesel engines. In addition, it is an excellent indication of the combustion efficiency of the vehicle, encouraging maintenance for greater fuel efficiency.

BENEFITS

of a

PARTIAL FLOW

System


Please Be Patient While Film Loads (a few seconds)